Add mobile interactivity to your digital display signage, kiosks and point of sales systems with DTAG100 – Engage with your audience.
The intelligent DTAG100 module plugs in to your existing infrastructure and creates a proximity marketing platform that's not restricted to only one beacon technology or limited to just a single service provider.

The world's only interactive Bluetooth beacon with integrated NFC.

For advertisers and retailers the DTAG100 offers the unique ability to dynamically control transmissions to synchronise with whatever is being displayed on screen, without reliance on cloud connectivity or platform.

Let the locally displayed content drive what is transmitted, when and to whom.
For the consumer, the DTAG100 delivers personalised content directly to their mobile device from nearby digital signs and kiosks, triggered by an on-demand tap or an opt-in Bluetooth beacon app.

Exploit the creative freedom to deliver a mobile experience unconstrained by any hardware or platform integration limitations.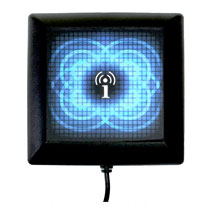 The DTAG100 is fully managed by the signage system through a single USB connection. It provides a re-programmable Bluetooth beacon, compliant with all current standards including iBeacon and Eddystone, as well as allowing remote firmware-upgrades for future changes. In addition, the DTAG100 provides an illuminated dynamic NFC tag touch-point, that can be used to trigger app downloads or to transfer customised 'tap-to-take' content to compatible mobile devices.

Adapt to ever-changing mobile technology, platforms and service providers through the future-proof design.
More info
Visit the resources page or download the DTAG100 Overview for more info
Feel free to get in touch with us to discuss your needs!
Where to buy
The DTAG100 is available to buy online, which includes everything you need to get started. For the US, Canada and Mexico, please visit Smartcard Focus US. Alternatively, please go to Smartcard Focus, Europe's biggest independent reseller of smart card products and solutions, offering world-wide shipping.